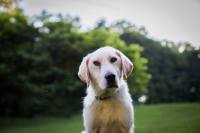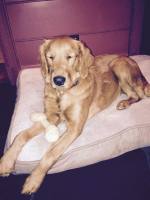 For the Love of Dogs Rescue & Buddy the Blind Yellow Lab

Beth & Summer the Golden Retriever
"Summer is doing so well. She is working on her "place". I am absolutely amazed!! Her training with Victory Tails Dog Training has completely transformed her. She has manners and self control out the wazoo! I am so proud of her. I have already recommended Vickie to everyone I know. I can't stop bragging about how proud I am of Summer. Thank you Vickie!"
"As a dog rescue group, we highly recommend Victory Tails. Viktoria was amazing with our special needs blind lab with OCD behaviors. After 1 month of training, he is so much calmer and well behaved. We cannot say enough good things about the training she provides."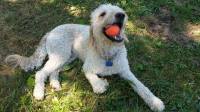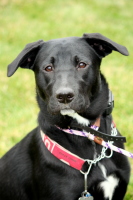 Clay & Sugar the Toy Poodle
Georgia & Maggie the Black Lab Mix
"I would highly recommend Viktoria Miller in canine obedience and behavior modification. She has demonstrated a high level of competence in training our dog, Sugar, and probably as important in training myself and my wife. Vikki has the ability to be persistent without causing frustration. Also her compassion and concern for animals is refreshing. Her patience and people skills are admirable. Anyone using Vikki's services will be well served."
"I tried to train her myself, since I had done so with my other dogs without any problems. Since she was the only pup born from her canine mom and had not had much socialization with other dogs or humans,except her parents, she was pretty unruly. I did call her demon dog and thought there was no way I could keep her. I felt devastated and hopeless, UNTIL, I talked with a friend of mine who knew Vicki. What a God send! With a lot of work and patience, and love too, she is sooo much better! I found out she WAS trainable and CAN be a good dog! It is still a work in progress but there is NO WAY I would give her up now! She shows me respect now. No more biting hard and craziness. Best of all, she is socialized now with other canines and humans! Thank you Vicki for letting me see there was something good about Maggie!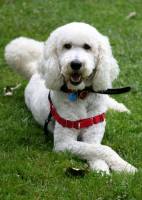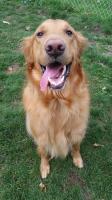 Tabitha & Charlie the Labradoodle
Ed, Debbie, Noah & Cody the Golden Retriever
"Vikki is an excellent trainer. She is patient and takes her time when working with a client. She not only trained Charley (a labradoodle), but she trained me as well. She provides more than basic obedience training as she has a wealth of knowledge from nutrition to behavior modification. On more than one occasion Vikki answered 911 calls from me for help be it via text, email or phone. Thanks to her time and talents Charley was able to pass his CGC test without a hiccup, and he has even accompanied me to my classroom on several occasions to work with the students in my classroom. I speak for myself and Charley when I say that Victory Tails K9 is the best, and gets our ringing endorsement!
"Just wanted to thank you again for all the help with Cody! We keep finding ourselves saying how much he has changed for the better! He has come so far and we really do appreciate your help and patience with us during training. We are amazed at how much he has learned in a short time, Noah is thrilled that he can come home and not get jumped on and we are thrilled we do not have to keep replacing our clothing and shoes! Thanks so much!"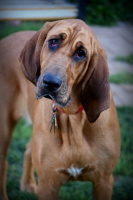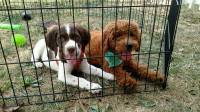 Cheryl & Daisy the Bloodhound
Our Daisy no longer leaps on the front door! Viktoria was not only great with our bloodhound, she was great with us too! I think we learned as much as Daisy and we have a far more disciplined hound! Thank you!
She is great!!! Very patient and really works well with the dogs. Would highly recommend her to anyone for boarding or training and in our case, both!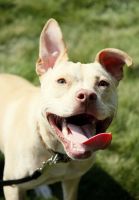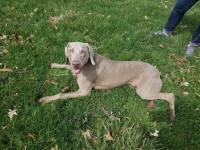 Stephanie & Wegman the Weimaraner
Jill and Dwight & Nellie the Pitbull Mix
"We have had 4 lessons so far. The patience that Viktoria had for myself and Wegman is unbelievable. This training has changed our lives and helped create a more harmonious home for our family. We both love coming to sessions."
"It was amazing to watch the transformation during Nellie's first session. She was calm and listened!"